WorldShip XML Auto Import
Teapplix Integration with UPS WorldShip through XML Auto Import. This page describes the process to set up the integration and print shipping labels.
Install Latest UPS WorldShip Software
To ship using UPS Worldship, you must install UPS WorldShip, and have an UPS daily pickup account. You can download WorldShip software here. WorldShip must be installed on a computer with a printer that can print labels. This computer must have an internet connection so you can access Teapplix.
Note you can install WorldShip on multiple computers in different locations, even with the same UPS account.
Print UPS Shipping Labels
Teapplix integrates with WorldShip using XML files. To print UPS labels, follow the following steps:
Start WorldShip on your computer.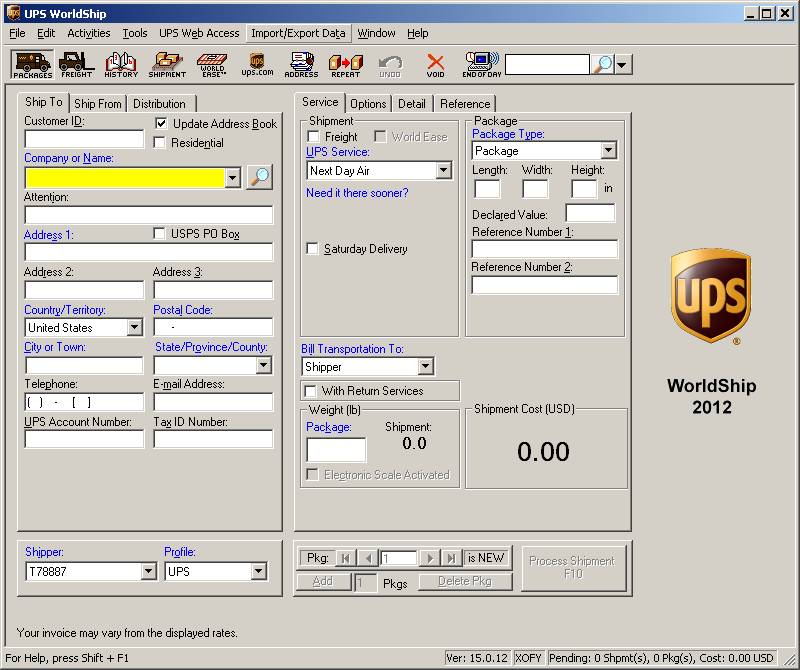 Select menu item "Import/Export Data" -> "XML Auto Import…"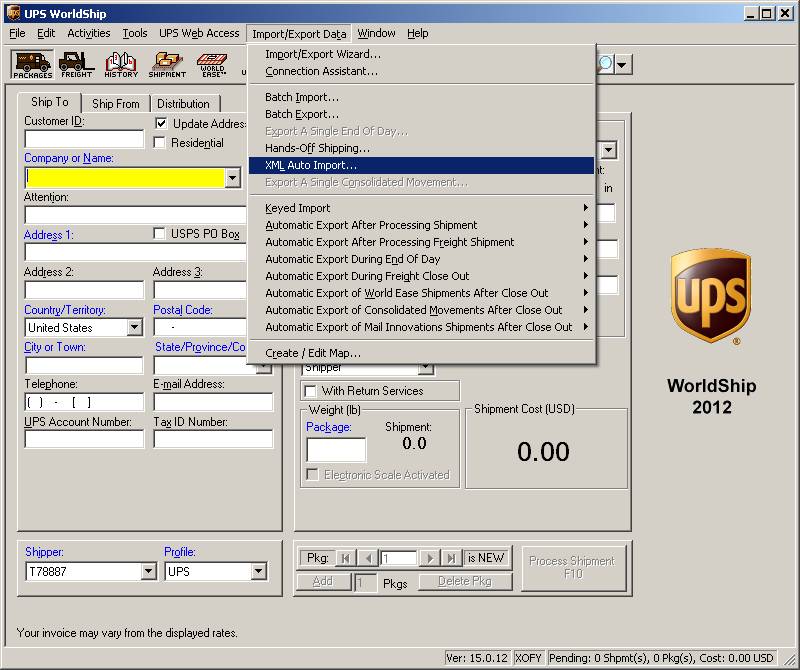 You will see the XML Auto Import Dialog. Make sure you printer is connected and turned on, press the "Start" button: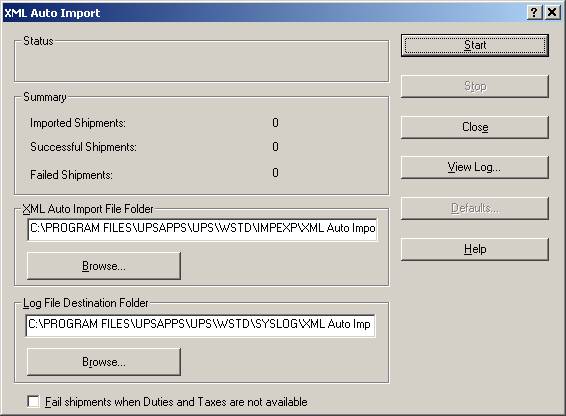 Go to Teapplix web page, click on "Open Orders" -> "UPS". Select a list of orders you want to ship via UPS. Press "UPS" button. You will be prompted to save the result to an ".xml" file. Save the file in: "c:\UPS\WSTD\IMPEXP\XML Auto Import". The file is typically named like '2007-06-11.xml'.
Once you save the file in the above directory, WorldShip will automatically print labels for each order contained in the XML file. After WorldShip prints the label, it will rename "2007-06-11.xml" to "2007-06-11.Out".
Printing Packing List
If you want to print packing list, click on "Generate Packing List" button on same Teapplix OrderManager page you generated your shipping lables.The resulting web page contains packing list for all selected orders, one order per page. Use the File->Print menu from the browser to print the packing list. You can print the packing list on a normal printer, or a thermal label printer that prints 4x6 labels.
We recommend you press the "Generate Packing List" right before you generate shipping labels. This way the same list of orders are selected for both your shipping labels and packing list, in the same sequence.
When printing your packing list, make sure you clear any header / footer in your browser print setup.
Uploading the UPS Labels
After you finish shipping, upload the output file from UPS (eg. "2007-06-11.Out") to Teapplix. Go back to Teapplix Open Orders Page and click on the "Upload Shipping Labels" link. then select the .Out file you just generated, and upload it. Teapplix will mark the order as shipped and email your customer with the shipping and tracking information.
Printing Multiple Batches of UPS labels
You can select more orders and generate another .xml file. Note that the .xml file name defaults to the date when you generate the label. If you generate multiple batches of labels in any one day, please rename the second file like this: "2007-06-01-batch1.xml".
After you finish printing and uploading all UPS labels, press hte "Stop" button followed by "Close" button on the XML Auto Import Dialog in WorldShip.