Search Filters
Searching and Filtering Open Orders
You can filter open orders by using the beige search bar displayed on open orders.
You can use exact values, or % as wildcard.
Enter some value and click on the "Search" button or the magnifying glass next to the field, or hit return. If you use a scanner, program the scanner to enter return after scan, and the search will be conducted automatically.

If you need more search filters, click on 'More'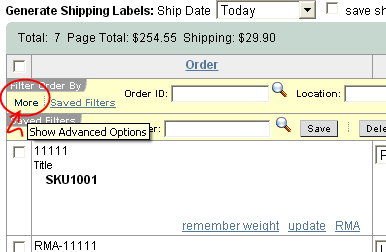 And you will see more filters:

Search parameters are sticky until you log out. You will see the parameters displayed in the beige search section. They are applied as you click on links under the open orders page. The "Open Orders" tab link itself will clear all search parameters though. If you want to remove the search criteria, just click on the "Show All" button.
All label generation services work on the search results. So does bulk update.
Shipped Orders
You can search for shipped orders on the "Order History" tab. Note that you can generate a packing list for shipped orders. The button is at the bottom of the page.