Jet.com
Currently, to integrate to Jet.com and obtain API links, each seller must go through a Jet.com certification process.  The certification process includes uploading an product item to Jet, and performing order shipping, cancellation and refund testings.  This would require to you turn on Teapplix InventoryAdvisor and Listing Tool. You can turn on these software  on "My Account->Subscription" page.
To get started, you must first create an account on parter.jet.com and perform "certification. To start certification with Teapplix, login to partner.jet.com and click on the API link at the left side: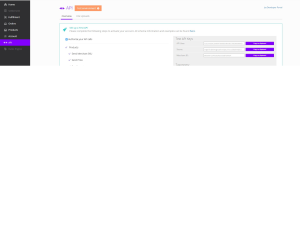 On Jet.com Partner page, do the following:
Copy the sandbox API User and Secret to Teapplix Setup=>Others page, Jet.com tab. Save.
After that, follow these steps in Teapplix & In Jet Partner Page
Go to Teapplix Inventory => Products page, select exactly one test product that has inventory quantity (you can check the quantity of a product on Inventory->Current Quantity page, if there is none,  you can enter the quantity on the Inventory->Enter Quantity page), hit the "Generate" button. This will cause the product to be uploaded to your Jet.com account. This product must have these parameters filled in:

Item Title
UPC Code
Brand
Image Large URL(make sure your images are not hosted on amazon or ebay,  also Jet.com has issue loading photos from PhotoBucket)
Default Price
Quantity
Ship Weight
Jet Category ID
Item description (Long Description)

Then, on Teapplix select 2 other products with inventory quantity > 0, and push the "Generate listing upload for Jet" again, this will certify the batch upload operation. Note that these 2 products must also have the above list of parameters filled in.
Go back to Jet.com Partner Page API tab, and click on "Order Generator" link, generate one order.
On Teapplix open orders, check the Jet.com account and click on Sync Now under the "Actions" tab. Make sure orders show up in Teapplix
Ship the order in Teapplix, and then click on the same Sync Now in Teapplix to mark the orders shipped on Jet.com
Go to Jet.com Partner Page, and generate one order with quantity 2.
On Teapplix open orders, select Jet.com and click "Sync Now". This will download the new order.
Use the Bulk Update panel on the right hand side of the Open Orders page, and change this order status to Cancelled (may need to enter an internal note for it).  This will auto cancel the quantities on Jet.com and complete the cancel step.
Go back to Jet.com Partner Page API tab, and click on "Return Generator", generate a return order.
Push "Sync Now" in Teapplix this will download the return as a shipped order with order id RET-xxxx in Teapplix.
In Teapplix order history, search for RET-% as order id, and the date of the return to find such order, click on the "mark as received" link on the order, this will complete the return process with Jet.
After step 10 above, go back to partner.jet.com to make sure you have completed certification. You should see now you have a "production" tab with credentials. You should copy the production credentials now to Teapplix Setup=>Others Jet tab.
Once you are successfully certified, your Teapplix account will download orders regularly, and upload tracking numbers.
Orders will be acknowledged automatically when downloaded
Teapplix will automatically acknowledge orders on Jet.com as they are downloaded into Teapplix.
Cancel an Order

If you cancel an unshipped Jet order in Teapplix Open Orders page,  we will immediately cancel the order on Jet, and the buyer will be refunded automatcially.
Orders Cancelled or Shipped Outside of Teapplix
If you mark an order cancelled on Jet, it will be cancelled on Teapplix next time auto-sync happens or you push the"Sync Now" button.
If an order is updated to shipped on Jet but not shipped via Teapplix, it will be updated to shipped on Teapplix next time we sync with Jet.
Returned Orders and Refund

There are two types of Return:
Merchant initiated
If you need to issue a refund for an order without receiving an email from Jet about a return,  you can find that order in Teapplix and click on the Refund action link.
Jet initiated
If a buyer is returning a shipped order and requesting a refund, a return order needs to be created first on Jet.  The return order will be downloaded to Teapplix with order id like RET-xxxx.  Once you received the return, you need to issue a refund from Teapplix.  You can find the RET-xxx order using the buyer name on Teapplix Order History page, and click on the "mark as received" link to complete the return / refund process with Jet.com.  You will be able to specify the exact refund amount on a dialog box once you click "mark as received". To compute the amounts, find the original order by the xxxx id:
Quantity Returned - quantity of items received by seller for refund
Price - the cost of 1 item to refund
Refund Quantity - the count of items that seller will refund
Total price - (Price * Refund Quantity)
Shipping - the shipping cost of returned items that seller can refund to buyer
Listing and Inventory Management
Teapplix provides the following functions for your Jet.com inventory management:
Teapplix can launch products onto Jet.com using the "Generate" button on the Inventory->Products page.  You need to make sure the product information is complete to pass Jet.com review for launch listing.  Product details such as Brand Name (needs to be set together with MPN - Manufacturer Part Number), Jet Category Id (this needs be exactly the same as Jet provided to you), etc.  Note that currently, Teapplix launched listings are limited to a single image. We are working on enhancing that.
If you turn on 15 minute automatic inventory sync, Teapplix will automatically update your quantity on Jet.com.
You can use the "Update Price" link in Teapplix to update price on Jet.com