QuickBooks Integration
Teapplix integrates with your QuickBooks. ActionConnect™ can export orders from Amazon, Walmart, eBay, Jet.com, Sears Marketplace, Buy.com, etc. and shopping carts into your QuickBooks and help you track financials and inventory. You'll get a clearer picture of your business's performance with real-time P&L information and inventory control.
Teapplix ebay accounting software provides a mapping system to map your listings from websites and marketplaces to items defined in QuickBooks. We support grouped items as inventory assemblies. Teapplix can also import orders from QuickBooks to print shipping labels. Get started with a Free Trial today!
Used either standalone or in combination with ActionShip™, ActionConnect™ helps our sellers automate the following tasks:
Automatically import orders 50+ marketplaces and shopping carts.
Automatically export orders into QuickBooks
Import Invoices, Sales Receipts & Sales Orders from QuickBooks to Teapplix to print shipping labels
Record item quantity and prices, shipping, and taxes
Optionally create customer records
Optionally record PayPal fees, Amazon marketplace fees
Map your sales to correct inventory part for proper inventory management, or map all sales to a default item.
Automatically enters Amazon refunds as credit memos
When you use our software for shipping, automatically enter postage as an expense
Flexible Mapping Options
Teapplix QuickBooks ActionConnect™ gives you flexible options on how to map orders to QuickBooks. You are provided with choices of:
Sales Receipts or Sales Orders or Invoices
Individual orders, or group orders by date into a "Summary"
Individual customers vs one per marketplace
Separate bank accounts for each marketplace
Record fees or not
Use default inventory vs inventory lookup table.
Build inventory assembly automatically
Scheduled Automatic or One Click Export
Teapplix QuickBooks Integration utilizes Intuit's free WebConnector addon to QuickBooks. Order to your QuickBooks can be scheduled as long as your QuickBooks is running or with a single button click with no file import or export: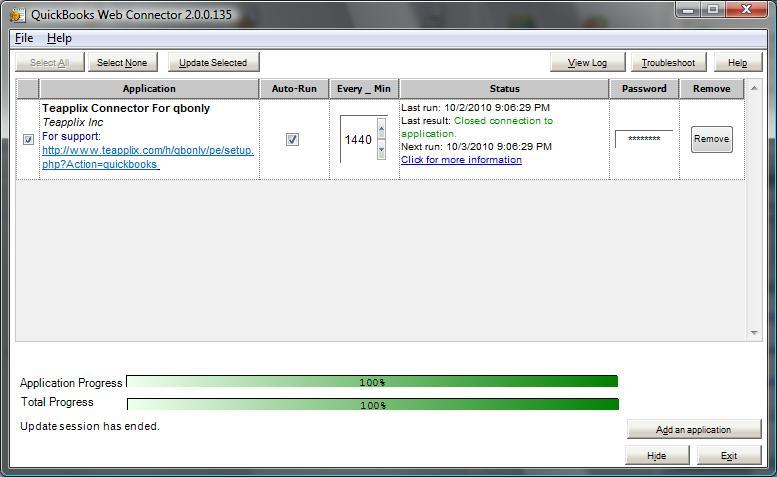 Eliminate manual data entry. Spend less time with paid accountants. Keep track of sales, taxes, and inventory.
Teapplix Accounting Integration supports almost all versions of QuickBooks on Windows platform:
QuickBooks Online
U.S. editions of QuickBooks Financial Software products
QuickBooks Enterprise Solutions, including Advanced Inventory Option
QuickBooks Premier (2002 or later)
QuickBooks Pro (2002 or later)
QuickBooks Point Of Sale (POS)
2008+ Canadian editions of QuickBooks
2008+ UK editions of QuickBooks
In addition, your first 30 days is free with no obligation to signup at the end. See for yourself by clicking on the button below: