Common Errors in Printing
Below are some common errors you might encounter and how to handle them:
Non-English Character in the Buyer Name or Buyer Address:
If you get below error when printing a label, please check ther is non-English character in buyer's name or buyer's address. If so, you can update the order and replace the non-English character with the correct English letter.
Example:  buyer's name "Andreas Ströberg"
Error message:  Error in deserializing body of request message for operation 'CreateIndicium'.Array
Using USPS Direct Print, but Some Orders Not Updated to Shipping in Teapplix<
Please make sure you don't have the Dazzle software opened/running at the time when you print labels in Teapplix via USPS Direct Print. Otherwise there will be a conflict and causing un-predictable printing results/errors.
Error Printing International Customs Form
If you get the following error:
Error: Invalid customs item data. Error encountered (Log ID: 42116)
Please check the following:
- If that order has item description shorter than 5 characters. If so, click on the Remember Weight link and add a string to the "Customs Description"
- If that order has value of "$0". If so, click on the Update link and add the value of the item or shipping
Extra Package lables not all generated
If you have created multiple extra packages, but not all the package labels are generated. Please check your postage balance with that shipping carrier account and make sure there are enough to cover all the labels. If you are short of the postage balance, please add more mony, cancel the lables, and re-generate them.
Insufficient Postage:
All USPS label postage are deducted right away from your postage balance account. If you do not have enough postage balance, you will not be able to print postage and receive an error message as shown below (Note, this applies to USPS; other carriers such as UPS and FedEx sends out monthly invoices).  To check our postage balance account and purchase more, please expand the right panel on the Open Orders page and click on the Action tab.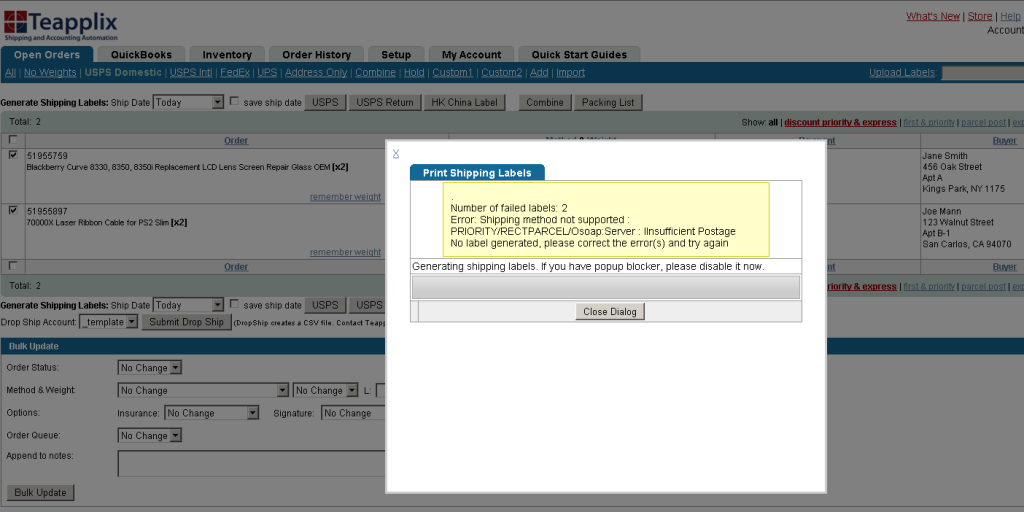 Shipping Method Not Supported:
Depending on your USPS provider, or your UPS / FedEx account, not all shipping methods are supported and you'll get an error message like in the example below.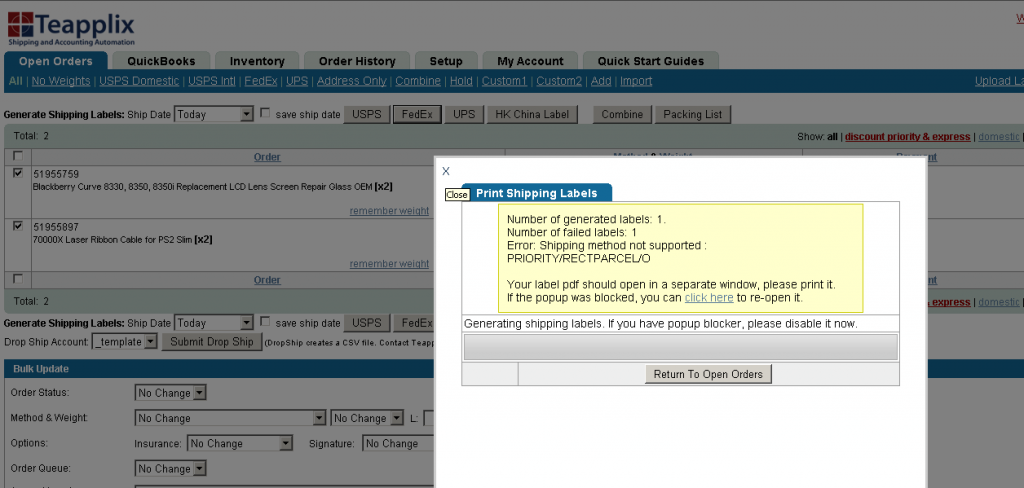 When this happens, click on the "X" on upper left to "Close", refresh the screen, select a different method and save and generate the label.
Address Validation Error:
If the address on the Ship To is incorrect, you will receive an Address Validation Error as shown below:
Note the zipcode of "74073" for Huntington, NY:

Error message below: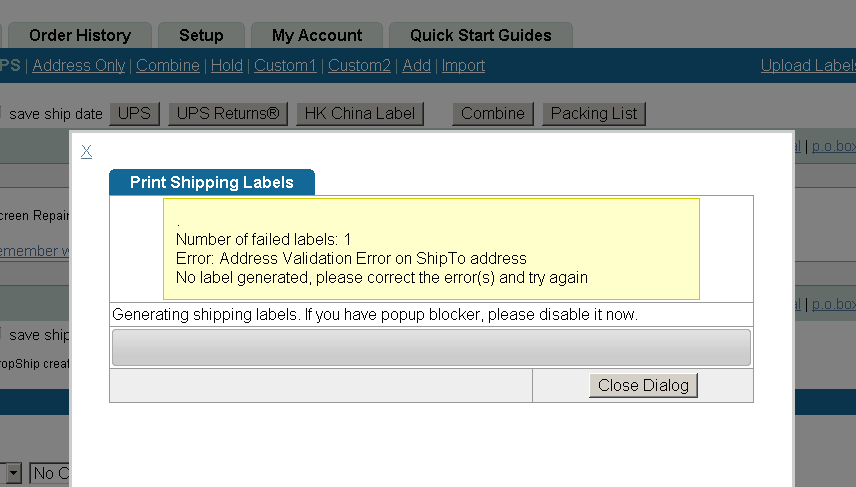 When this happens, click on the "X" on upper left to "Close", refresh the screen, make corrections and save and generate the label.
Other Address Related Errors:
If you get address errors, look up the shipping address in Google map and check to make sure the address is spelled correctly.  Common issues for example are "Avenue" should be "Ave".